Books
Book Recommendations, Favorite Authors, and Influences
Illusion of Grandeur by Terry Conrad
When Private Investigator Nick Frye is asked to help find a teenage girl who has mysteriously disappeared, he gets a lot more than he bargained for. The girl has run away to join a cult. The leader will employ whatever means necessary to keep his flock faithful. Sensing he's in over his head, Nick asks his friend, a cult expert with a dark history, for help in removing her from the grip of the cult. The cult believes that God has given him a mission – to bring about the end of the world and usher in the Kingdom of God. To do this, they must start the War and then kill the Anti-Christ. What starts off as a simple cult extraction turns into a race against time, where Nick and John have to stop the cult before disaster becomes reality.
Fugue by Terry Conrad
A serial killer is on the loose in Cleveland – kidnapping and mutilating young girls in the suburbs, and then dumping their bodies in the waterways of the Metroparks.  Each victim is left with unique messages carved into them, leaving homicide detectives clueless as to the true motives behind the killings.  Newly promoted homicide detective, Jack Hargrove is assigned to this high profile case that can either make or break his career, and he is determined to solve the case no matter the personal cost.
Charley Buckman quickly becomes the prime suspect in the case, and while Det. Hargrove has evidence pointing to him as the killer, he unfortunately cannot use it to find the most recent missing girl, who he believes is still alive.  In a chase that leads him halfway across the country, Hargrove must work with the victim's father to break a seemingly uncooperative killer who denies his own identity.
Chad Sturley, a middle school teacher with seemingly no connection to the crimes, initially does not feel he is capable of such heinous murders.  As time goes on, however, he begins to doubt not only his innocence, but his very identity, as telling clues relating to the crimes begin to surface in his dreams.  Feeling compelled to prove either his innocence or guilt, Chad begins to search for the missing girl, recovering more and more disturbing images related to the crimes as he goes. 
Charles Cooper
The Riddle of Common Sense
Jay Waitkus
Dividing Line: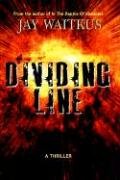 In the Depths of Shadows: